What do Antonio Banderas and the cone bra have in common? Aside from being the subject of exotic fantasies shared by countless gen-Xers, they were also both introduced to America in the early 1990s by Madonna, who brought the Spanish star to the attention of audiences in the States when she visited Madrid as part of her Truth or Dare documentary.
In the film, the influential "Material Girl" singer meets her long-time crush Banderas at a party (a scene in which she makes an extremely awkward pass at him in front of his wife) and admits to having seen every single film he had made in Spain up until that point. Her endorsement was enough to pique the interest of Warner Bros., who cast him in the co-lead role in their 1992 Latin music drama The Mambo Kings, though as his English was pretty much none existent, Banderas learned all of his lines phonetically and pulled the part off without knowing the language.
As his English improved so did his prospects in Hollywood, and by the time the decade came to a close films like Philadelphia, Desperado and The Mask of Zorro had made him a household name. He remained a constant on our screens in the years that followed, reprising the role of Zorro and joining big budget franchises in Shrek and Sky Kids, though in recent years his status as a genuine A-lister has come into question. We don't really hear much from Banderas nowadays, and here's why.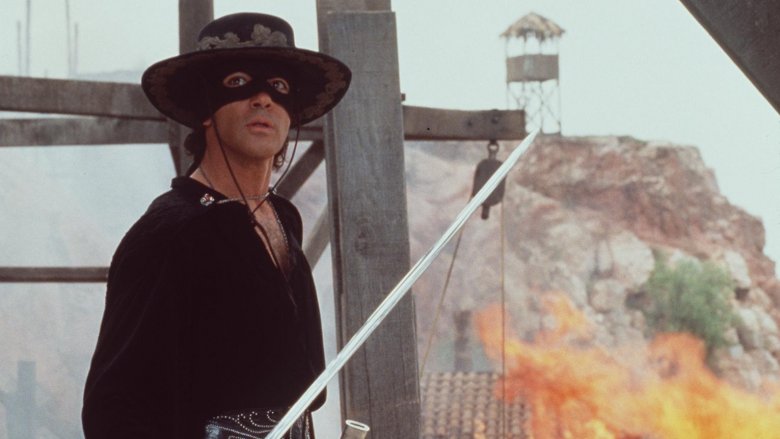 Banderas only got into acting after a chance encounter with director Pedro Almodóvar, who ignited a passion in him with a passing comment. "You have a very romantic face," he told Banderas as he walked by him in the street. "You should do movies." The enigmatic filmmaker ended up taking Banderas under his wing and would cast him in five of his films, in which he played everything from the gay son of a politician in 1987's Law of Desire to a mental patient who kidnaps a porn star in 1990's Tie Me Up! Tie Me Down!
After making the move to Hollywood, those edgier parts came his way less and less, and before long all anyone knew Antonio Banderas as was the Latin Lover with the sexy voice. It's a tag that has followed him his entire career, limiting opportunities to show his range. Even in movies like Spy Kids, every time he enters a room a Spanish guitar announces his arrival, something that didn't go unnoticed by frustrated Latin film fans who see Banderas getting "comfortable" being stereotyped.
You can't really blame him, though. Studies have shown that Latino representation in English language film and television hasn't improved since the 1950s, and Arenas Entertainment CEO Santiago Pozo believes the problem runs deep off-camera, too. "How many Latino names do you see in the movie credits?" he asked. "How many Latino names do you see as movie studio executives?"
Banderas has taken on some roles that require a little more than smoldering looks and a velvety voice in recent years, though the results haven't been great. In 2011 he reunited with his mentor Almodóvar for critically acclaimed Spanish language thriller The Skin I Live In, marking a shift away from the kind of roles Hollywood audiences had come to know him for. Banderas' performance as a calculating plastic surgeon was praised in the U.S. Veteran film critic Roger Ebert wrote that the leading man showed a "rare intensity" in the role.
In the years since his reunion with Almodóvar, however, the critics have not been as kind. Of the last ten Antonio Banderas movies reviewed on Rotten Tomatoes, eight of them have scores of less than 50 percent, with the website's extensive network of critics largely unreceptive to the actor's efforts to break the mold.
In 2014, he turned up in The Expendables 3 looking to work on his action chops, but the film was dismissed as a "parade of uninspired cameos and listless violence" by Vulture, and the verdict was just as bad when Banderas took on the lead role in Automata later that year. In their review of the dreary apocalyptic sci-fi, The Wrap said that Banderas was "all wrong" for the part, criticizing him for being "shouty where he should be stern, confused where he should be clued in."